Tony G besvarar läsarnas frågor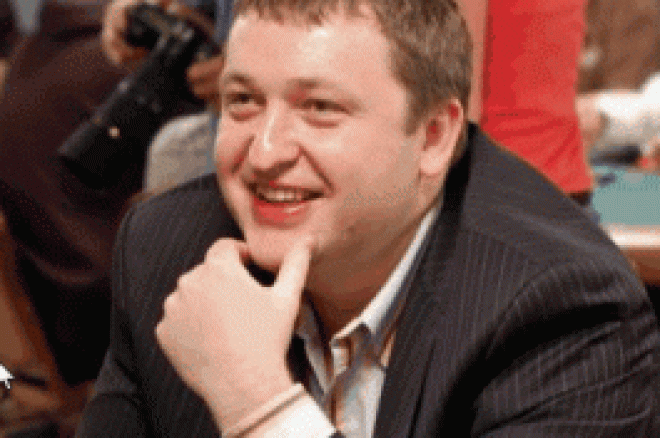 Våra kollegor i Norge publicerade en artikel för en tid sedan där de bad sina läsare att ställa frågor i forumet, frågor till Tony G som sedan skulle skickas vidare till honom. Nu har de fått svar på alla dessa frågor och sammanställt de hela till en artikel.
De flesta pokerintresserade känner säkert igen namnet Tony G, speciellt ifrån tv-sända pokerprogram. Denna färgstarka pokerprofil är den typen av spelare som man antingen hatar eller gillar. Hans attityd vid spelbordet gör det riktigt underhållande att titta på dock säkert inte lika underhållande för hans motståndare.
Tony är den ende pokerspelaren som vunnit en större pokertitel i tre olika världsdelar (USA, Europa och Asien). Han är regerande mästare i Singapore Open, var europamästare år 2005 och van WPT titeln Bad Boys of Poker II under 2006.
Frågorna som skickades till Tony kom raskt tillbaka och här nedan kan ni se läsarnas frågor och Tony G:s svar. Har du egna frågor du skulle vilja ställa TonyG eller någon annat proffs, skriv dem då i vårt forum, så ska vi göra vårt bästa att försöka få dem besvarade så snart som möjligt. (frågor och svar på engelska)
PokerNews frågar: Hello TonyG. Please tell us about the best and the worst moment in your poker career?
TonyG: Best moment is winning bad boys of poker WPT, I don't like to focus on the worst and don't even know.
---
Orangechili frågar: Have you ever been in such a big bad beat period, that you have considered quitting poker?
TonyG: Yes a few times but not in the last 5 years, If you play for long enough and win more then you can imagine you forget about bad beats.
---
A question about a situation:
stom frågar: Small blind have three times more chips than the smallest stack at the table (me) and raises 3 x big blind. I am looking down at A-A. At this point there are 223 players left in the tournament and there are 216 prices. Would you call, go all in or muck the aces? Pretend this is a big tournament and getting in the money would be a big deal for me.
TonyG: The play is to go all inn (re-raise)
---
Orangechili frågar: I have played poker for a while and I have earned decent money on my playing. My bankroll is slowly raising and I have now reached the point where I have started to think about making a living out of poker. There are many risks to think about to quit work or studies and when I do my calculations, I start to wonder if I really can earn so much from poker as I can from a job?
So my question is:
How much do you need in your bank roll to start playing as
a full time pro, and where or at what point did you start to become a
full-time pro?
TonyG: These days you need about $250,000 in bank roll to make a good living from poker. I would suggest you stay in your job and play poker for a hobby as very few people can make a good stress free living from the game.
I had no choice as I had no job and no hope so I had to win at poker to make it in life.
---
Dirdal frågar: I am right now in a period where I have received a lot of bad beats, so much in the last few days its almost funny in a way. What do you do to avoid getting on tilt, and what do you do to work off a period with many bad beats? Do you suggest that I should take a break from poker or just continue and focus to try to play my A-game?
TonyG: I like to quit the session if things are not going well. Play more when you feel good and are winning and play less when you are tilted up or upset. It's also very good to take a brake if you feel you been unlucky just take a few days off or even a week. Control is the key if you want to make it. Being on tilt during a long session is nothing you want.
---
CCKRCKR frågar: Are you the new Robin Hood of Poker? After Barry Greenstein stopped giving his winnings to charity, are you the new Robin Hood of poker after donating both in Asia and at the Moscow millions?
TonyG: I don't believe so, I don't play that much and just give away a little more, but I hope I can give away more over the coming years. Barry has given away lots more than me or anyone else in the poker world
---
CCKRCKR frågar: How many days in a year do you travel around on the poker circuit?
TonyG:70 days not more, I travel for fun and not as a job, poker is a hobby to me.
---
Hammer75 frågar: There are many poker players around the world and you have met many of them. Are there any players you fear at the poker table?
TonyG: none
---
stom frågar: Who do you think is the best poker player in the world after yourself of course? «smile»
TonyG: Gus Hansen
---
Detta var ett utval av de frågor som skickades till Tony G. Har du själv en fråga som du skulle vilja ställa till honom, bege dig då till forumet och ställ din fråga där. Så fort vi fått in ett antal frågor skickar vi dessa vidare till Tony och han återkommer med svar, svar som publiceras inne på forumet.